Happy mid-March!
For us, this means that we have March break. Which means that we no longer have a minotaur, Medusa, school, and well GAEA on our heels for a week; all of which are all trying to crush our guts into smithereens. If you did not know, we are now not-so-secretly demigods. As bloggers, this also means one week of hardcore post workouts. Not as in stretches after you workout, but a workout in writing all the posts that we never found the time to do. As per usual. 
Since my demigod powers unfortunately don't extend to reviewing most books I read, this is me trying to make up the difference. So, these posts are going to simply be some of my short-and-straight-to-the-point bookish thoughts. (Although, I'm the least straight to the point kind of person when I talk. Or at least I do a lot of this thing called rambling).  Anyways, for this first one, I chose a variety of YA that I've finished in fall. Basically from last year. So, let's commence the mini book review marathon!
[Click the covers for the book's Goodreads page and summaries.]
---

Extraordinary Means by Robyn Schneider (3.5/5 stars)
The summary sounded cliched and I will waste no time saying that… it was. It's a blend of Looking for Alaska and The Fault in Our Stars, but sometimes we can't help but like cliches. If you find yourself turning enough pages to realize that you're wanting to find out the obvious, then it's a winner because it was good, cliche or not. If anything, I think some parts of the book actually tried to counter the cliche of trying to be weird and different and I really liked the humour: it was teen-like and it actually got me laughing out loud. I just felt somewhat satisfied reading this and sometimes a dose of quirky characters is what you need.
Cover thoughts: I love the UK one. It's cool with the whole tree/lung thing… and I love the colours. The "normal" one is nice too but… it's a bit too normal.
Possibly the best quote in the book:
"'Hey, Nick, do you know what it would say under your photo in a high school yearbook?' I asked. 'Most likely to be friend zoned.'

 'Funny,' Nick grumbled. 'Sharpen that wit of yours any more and someone might think you actually have a point.'"
This exchange is basically me.
Switched by Amanda Hocking (2/5 stars)
This book felt more like
middle grade to me than YA and I just had a feeling that it was missing some jigsaw pieces. I was recommended this book so I gave it a shot; so if you're in middle school, then this might be an entertaining read. You might still enjoy the book no matter your age but I didn't feel too interested. I just didn't enjoy reading about the characters because I didn't feel many emotions nor did I feel invested in them. I couldn't enjoy the cliches because they weren't really cliches with a twist… it was just cliched. Parts of it was a bit slow for me and perhaps a few years ago it would have been absolutely interesting and original but I guess after a few of these, the excitement dulls. I rate this a 2 and not a 1 because the characters weren't ABSOLUTELY HATEFUL. I wasn't trying to tear my hair out in agony or at the point of shoving the book down my throat. It was just… meh. shrugs
Cover commentary: The cover with the butterflies is nice but I read the red one. Eh, I'm not too much of a fan. What's a girl in a white dress casually doing in a poppy field in front of a dark castle under a red sky? Summoning bloody ghosts? Very attractive.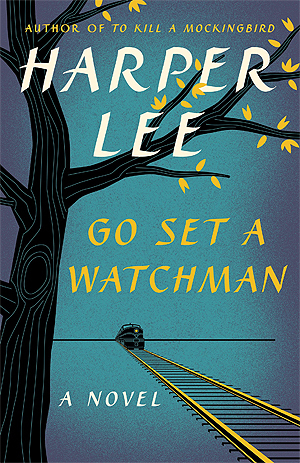 Go Set a Watchman by Harper Lee (3/5 stars)
Well. I loved To Kill a Mockingbird just like most everyone else. Atticus' wise quotes were the best. This was not as satisfying. Obviously because this was not intended to originally be published, it's half-polished and a lot of things just wasn't as nice. Several main characters who were in the prequel were reduced to the sidelines; they didn't play much of a role in this book. Like time, people changed but so did the circumstances in which this book was published. It was interesting though, to find out 50 years later how things had progressed in the town of Maycomb. If you're planning to read this, I would recommend that you just don't expect too much from it! Feeling: disappointed.
"As sure as time, history is repeating itself, and as sure as man is man, history is the last place he'll look for his lessons."
More cover commentary: Despite the sad looking horizon that is only a black line, the cover seems fitting enough.
Ghosting by Edith Pattou (4/5 stars)
Sorry to break it to you but there aren't any ghosts in this book. This book is written in free verse with more point of views than the number of times I eat popcorn. I love popcorn! :3 I liked the way this book was written and that's what drew me in the first place. It was interesting and I enjoyed it. Read it if you want to see something written in a different format! Might be a refreshing twist. Or it might be a refreshing subLIME read.
(Ahaha I am so hilarious, I'm practically a stand-up comedian. Except I can't, because everyone would be booing for me to sit down. So I guess I'll be a sit-down comedian but that's fine with me… I'm sitting at the laptop anyways. :P)
Cover judgement: I like the font and that it's simplistic. It's just a bit boring and I don't see how a paper crane was ever related to the book. (This is my "I'm bored" voice.)
Diamond Boy by Michael Williams (5/5 stars)
How I knew I liked this one: I had a test the next day that I didn't study for, yet I couldn't stop turning the pages and I secretly didn't go to bed. This book was making me stressed out worrying for the characters because it was a really entertaining read. It was different from what I was currently reading… so it was nice! (Wow, I can't believe that I practically said that being stress is nice. IT'S REALLY NOT.) Read this if you're up for a journey of an adventure!
"[Your children] are a finer treasure than any stone you will find in the diamond field." (pg 158)
More cover judgement: I actually really like this cover from the jagged (and fitting) font type that simultaneously act as the teeth for the skull to the diamond cut-outs.
That's all for this late Friday post! Any thoughts, opinions, or random findings? Feel free to write us comment… but only if you feel like it. 🙂
~ Faith
Hi – Don't forget to smile this week! Alright, I'll save the rest of my cheesiness for my pizza.